Tours and Transportation
If you're looking to kick up your heels and let someone take the wheel, the tours offered in Southwest Florida are the perfect way to completely relax while sightseeing! From the thrilling airboat rides in the Everglades to the calming sunset cruises, there is a perfect tour for everyone.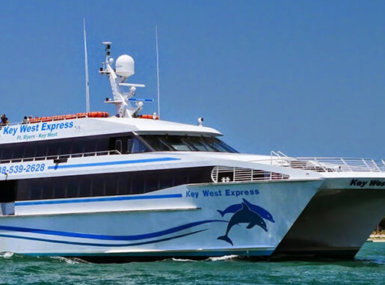 Featured Business
Key West Express – Fort Myers Beach
Enjoy the tropical island paradise of Key West in just 3 ½ hours when you travel aboard the jet-powered vessels of the Key West Express. Getting there & back is half the fun aboard modern and spacious jet-powered vessels offering year round service to the vacation spot of Pirates, Poets, Presidents & Partygoers. Whatever your pleasure, Key West has it waiting for you! Departing from the Ports of Ft. Myers Beach and Marco Island (in season).
Learn More
Visit Website
Adventure Water Sports, Inc.
1160 Estero Blvd. Fort Myers Beach, FL 33931
Adventures in Paradise
645 Old San Carlos Blvd Fort Myers Beach, FL 33931
Airboats and Alligators
6001 Lake Traffors Rd. Immokalee, FL 34142
All Water Excursions (AWE) Marina
12345 Tamiami Trl. North, Naples, FL 34110
Babcock Ranch Eco-Tours
8502 State Road 31, Punta Gorda, FL 33982
Banana Bay Tour Company
5828 Cape Harbour Dr. Cape Coral, FL 33914
Bayside Charters
20 Sanibel Causeway Fort Myers, FL 33908
Big "O" Tours
920 E. Del Monte Ave. Clewiston, FL 33440
Boat Rentals at Naples Bay Resort
1500 Fifth Ave. South, Naples, FL 34102
Bonita Jet Ski & Parasail
27908 Hickory Blvd. Bonita Springs, FL 34134
Breakwater Adventures of Marco Island
909 Collier Ct. Marco Island, FL 34143
Capt. Mitch's Airboat Tours
30999 Tamiami Trl. East, Everglades, FL 34139
Capt. Tony's Fishing Adventures
18800 San Carlos Blvd. Fort Myers Beach, FL 33931
Captain Jack's Airboat Tours
905 Dupont St. Everglades City, FL 34139
Captain Joey D. Charters and Boat Rentals
1345 Fifth Ave S Naples, FL 34102
Captain Van Hubbard/Let's Go Fishin' Inc.
P.O. Box 146, Fort Myers, FL 33946
Captiva Cruises
11401 Andy Rosse Ln. Captiva Island, FL 33924
Catch Me If U Can Fishing Charters
14341 Port Comfort Rd Fort Myers, FL 33908
Cool Beans Cruises
377 Capri Blvd. Naples, FL 34113
Cruise Fish Dive
28811 S Tamiami Trail Suite 3 Bonita Springs, FL 34134
Electric Moped Tours
1200 Fifth Ave S 123 Naples, FL 34102
Everglades Adventure Tours
796 San Carlos Dr. Fort Myers Beach, FL 33931
Everglades Area Tours
238 Mamie St. Chokoloskee, FL 34138
Everglades City Airboat Tours
907 Dupont St. Everglades City, FL 34139
Everglades Day Safari from Ft. Myers
17105 San Carlos Blvd Fort Myers, FL 33908
Everglades Excursions
1010 6th Ave. South, Naples, FL 34102
Extreme Family Fun Spot Boat Rentals and More
423 Bayfront Pl. Naples, FL 34102
Five Star Stables & Tack
10540 Ruden Road North Fort Myers, FL 33917
Fort Myers Fishing Adventures – Capt. Joe Greco
2500 Main St Fort Myers Beach, FL 33931
Fort Myers Princess
645 Old San Carlos Blvd. Fort Myers Beach, FL 33931