Captain Jack's Airboat Tours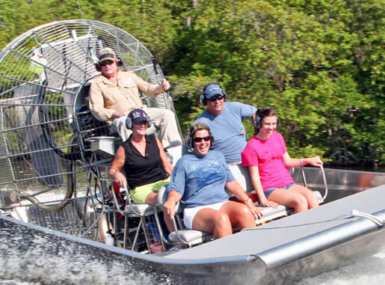 About Us
We offer… Back Bay Eco Tours, the Dolphin Experience, Sunset Cruises, Burial At Sea and Weddings/Renewal of Vows.
Reservations required for all tours. All tours departing from Matlacha and Bokeelia, Pine Island, FL.
Also available on site is Captain Cathy Eagle- she is an ordained minister and can provide services for marrying, renewal of vows, and spiritual unions.
Online Savings
Captain Jacks Grasslands Combo Tour
$6.00
off
Expires 12/31/2020
Get Coupon
Captain Jacks Grasslands Combo Tour
Grasslands Combo includes 1 hour wilderness airboat tour, 30 min grasslands airboat tour, animal sanctuary, alligator show. Not valid with any other offers SWFTG
$6.00
off
Expires 12/31/2020
Captain Jacks Mangrove Airboat Tour
$2.50
off
Expires 12/31/2020
Get Coupon
Captain Jacks Mangrove Airboat Tour
1 Hour Mangrove Airboat Tour. Free Animal Sanctuary. Free Hourly Alligator Show. Cannot be combined with other offers. SWFTG
$2.50
off
Expires 12/31/2020
See All Coupons