Tours and Transportation
If you're looking to kick up your heels and let someone take the wheel, the tours offered in Southwest Florida are the perfect way to completely relax while sightseeing! From the thrilling airboat rides in the Everglades to the calming sunset cruises, there is a perfect tour for everyone.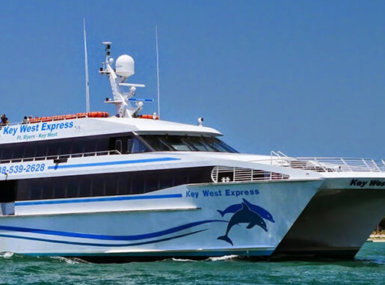 Featured Business
Key West Express – Fort Myers Beach
Enjoy the tropical island paradise of Key West in just 3 ½ hours when you travel aboard the jet-powered vessels of the Key West Express. Getting there & back is half the fun aboard modern and spacious jet-powered vessels offering year round service to the vacation spot of Pirates, Poets, Presidents & Partygoers. Whatever your pleasure, Key West has it waiting for you! Departing from the Ports of Ft. Myers Beach and Marco Island (in season).
Learn More
Visit Website
Pure Florida
1200 Fifth Ave. South, Naples, FL 34102
Quicky Scooters & Bike Rentals
1149 Estero Blvd. Fort Myers Beach, FL 33931
Scootertown
1095 Bald Eagle Dr. Marco island, FL 34145
Sea Breeze Charters
19 Sunview Blvd. Fort Myers Beach, FL 33931
Sea Level Family Fishing Charters, Guide Service & Ecotours
4609 SW 22nd Ave. Cape Coral, FL 33914
Sea Quest
18218 Poplar Rd. Fort Myers, FL 33967
Seatrek
18500 San Carlos Blvd. Fort Myers Beach, FL 33931
See Manatees
525 Newport Drive Dock D Naples, FL 34114
Skeeter's Fishing Charters
3620 SW 5th Pl. Cape Coral, FL 33914
Snook Bight Marina Paddle Board Tours
4765 Estero Blvd. Fort Myers Beach, FL 33931
Snook One Charters
N/A Fort Myers Beach, FL 33931
South Bay Marina
179 South Bay Dr. Naples, FL 34108
Speedy's Airboat Tours
621 Begonia St. Everglades City, FL 34139
Stand Up Paddle Board Rentals by Naples Bay Resort
1500 Fifth Ave. South, Naples, FL 34102
Sugarland Tours
109 Central Ave. Clewiston, FL 33440
Sunset Boat Tours
645 Old San Carlos Blvd. Fort Myers Beach, FL 33931
Sweet Liberty Catamaran Sailing & Boat Tours
880 12th Ave. South, Naples City Dock, Naples, FL 34102
The Fort Myers Princess
645 Old San Carlos Blvd. Fort Myers Beach, FL 33931
Thomas Edison & Henry Ford Winter Estates
2350 McGregor Blvd. Fort Myers, FL 33901
Wootens Airboat Tours
32330 Tamiami Trl. East, Everglades City, FL 34141