Relax, Unwind and Have a Drink!
April 6, 2018
•
Nightlife
Southwest Florida is not just beaches and sunshine! When the sun sets and you want to relax, unwind and have a drink, we have you covered!
Cape Coral and Fort Myers in recent years have been gaining a variety of great bars, lounges and restaurants, making the nightlife scene so exciting! Here are my top four local hangouts off the beaten path, in which you can lounge and have a beer (or wine!). These are very unique places that offer tasty food and amazing cocktails!
Being a Cape resident, my go-to spot for the past four years has been Nice Guys Pizza. Nice Guys has all the components that make up a great bar/restaurant: a relaxing atmosphere, craft beer and specialty cocktails, amazing service and killer food! Enjoy craft beers on one side or go to the adjacent room and try their specialty cocktails, one of which includes your favorite childhood cereal — yeah, I said cereal! Trust me, you won't be disappointed. Aside from the must-try food and drinks, the atmosphere is very laidback: It's even kid-friendly in the earlier hours between 4-7 p.m. You can bring your kids and let them enjoy the numerous pinball machines!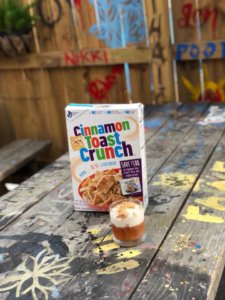 Gather is another recently discovered fave. Located in Cape Coral at Tarpon Point Marina, Gather has nice outdoor seating that overlooks the marina, making it a great spot to enjoy some drinks while watching the sunset! They also serve specialty cocktails and often have events, DJs and theme parties! Oh, and their weekend brunch has unlimited mimosas! It's definitely a place you must visit!
Now moving onto Fort Myers, the next two places happen to be specifically in downtown Fort Myers. Coincidence? I think not. This area has seen a lot of growth in recent years, and many new restaurants/bars have renovated to keep up.
The 86 Room is an experience that will take you back! From the decor and lighting to the drinks and even the bartenders' outfits, it is as if you were transported to a 1930s speakeasy. They often have live jazz bands, piano players or black and white movies being projected. If you go, you must try their Whisky Sour Flip. 
And last but definitely not least, my newest discovery — Remedies Parlor! This is an edgy shop that crafts their own essential oils, sells artwork and jewelry, the cutest cacti and many other curiosities! Once you reach the back room, you have the option to enjoy an ice cold craft beer or wine, and what makes that EVEN BETTER is their beautiful garden! They have multiple tables to take a seat and lounge while you enjoy the unique atmosphere created by the candles and shrubbery! The owners are also very nice and attentive! They're always adding items to their shop, so you'll have to visit time and time again to not miss out!