Quarantinis 🍸 & More
April 24, 2020
•
Activities
There's a drink for every occasion! They set the mood, start your day or get the party going! But now that we have to maintain social distancing guidelines many of the places we would frequent for our go-to drinks have temporarily closed up shop. This is our newsflash encouraging you not to worry – A lot of these businesses have started doing to-go and delivery of alcohol and other drinks. 
For your morning coffee, Narrative Coffee Roasters from Naples, FL offers high quality, unique, seasonal coffee. Their brick and mortar shop is located in the Mercato shops in Naples but since the stay at home order due to COVID-19, they have opened their online shop and do free deliveries throughout the SWFL area. They sell cold-brew bags, retail bags, and even a yummy-sounding Lavender Oat Milk Latte. They deliver on Mondays and Thursdays right to your front door!
Another equally as delicious local coffee is Shift Coffee Bar, you may have seen their coffee trike around town or maybe stopped into their espresso bar inside the Chico's headquarters. Shift Coffee Bar offers free delivery from Cape Coral to Naples as well. They have an online shop where you can place your order for half-gallon or gallon bags of their Cold Brew, Oat Milk Draft Latte, Oat Milk Chai Latte, or Oat Milk Golden Latte. They do deliveries on Tuesdays and Fridays.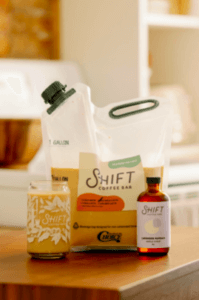 Ok, so maybe coffee isn't your thing… The good news is that there's also local fresh-pressed juices and Kombucha FOR DELIVERY! Irene's Dream offers fresh-pressed juices and elixirs all are raw and organic. She has many different types available for purchase on her shop as well as juice packages and she covers the WHOLE SWFL area! Flying Eagle Kombucha based in Fort Myers has you covered for Kombucha delivery. They offer 32 oz bottles of kombucha flavors like Elderflower, Mango, Passionfruit, Strawberry Lemongrass, and more. Their current special is buy 3+ growlers get $2 OFF each. Check out their online shop to place an order and for delivery information.
Now to the "After-Hours" drinks! We can't go to the bar SO the bar came to us– well kind of! Local businesses like Palace Pub & Wine, Nice Guys Pizza and Millennial Brewing are now offering curbside pick up of alcoholic beverages! Palace Pub & Wine had just opened up their bottle shop a few weeks before businesses were shut down. They have now set up an online shop for ordering all types of wines and if you're not sure what type of wine you should get you can call/text them at 239-691-6500 for assistance- they would gladly recommend the perfect wine for you. If you're more of a beer drinker, Millennial Brewing has you covered, in their virtual "taproom" they have 6-packs of beer, 32 oz beer cocktails and more. They are currently doing same-day delivery to certain Cape Coral and Fort Myers zip codes.
We've covered wine and beer but we could not forget the "stronger" spirits and this is where Nice Guys Pizza comes in. Along with their AHMAZING take-out food, this pandemic has brought the famous Nice Guys cocktails in their to-go versions: Thicc Bois and Lil Helpers. The Thicc Bois are a 64 oz mixed cocktail ready to be poured over ice and enjoyed and they also have the ready-made individual cocktails (Lil Helpers) also shake and pour over ice for $9. Prices for the Thicc Bois vary depending on the type of cocktail. Nice Guys Pizza also offers cans and bottled beer-to-go as well as growlers of their current beer on tap. To place an order to-go call ahead at 239-549-7542, pull up and pick up your goodies!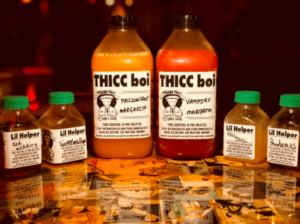 We hope you can support local businesses that are doing everything they can to provide us with our "usual" drinks for a sense of normalcy during these weird times. Cheers!