SWFL's Secret Outer Islands!
September 25, 2020
•
Activities
Southwest Florida thrives on outdoor activities and our beaches are some of the best in the states, but we bet you didn't know that we also have a few outer islands that are worth exploring.
That's right; these four islands offer boat-only accessible seclusion and gentle natural beauty. So take a weekend to go out and explore these secret outer islands!
Cayo Costa
Cayo Costa is an island with more than 2,400 acres of preserved land. Nine miles of beach that are perfect for shelling, fishing, walking, camping and biking. You'll be amazed at the bright turquoise waters that invite you to snorkel, paddle and swim. If you choose to paddleboard, you may encounter manatees, dolphins, alligators, osprey, eagles and many wading birds along these protected waters. At Barrier Island Park Society you can find kayaks and stand up paddleboards available to rent so you can start your adventure. On this ride you can visit Manatee Hole, which is a small lagoon south of the park's dock, Here you can find  manatees almost every day of the year. Another great location within paddling distance is the world famous Cabbage Key restaurant. If you're looking to get the full experience, there are campsites and cabins available for overnight stays. There is also a ferry service that runs to the island from several mainland locations. Amenities such as bathrooms, cabins and shower stations are available for your convenience. Visit captivacruises.com for more information on times and prices! What are you waiting for? Cayo Costa is open from 8 AM to sundown. The fee is $2 per person. Get out there and explore the sheer beauty of this island!

North Captiva Island
Between Captiva Island and Cayo Costa lies North Captiva Island, only accessible by boat this small but charming island that's sprinkled with private residences offers stunning vacation rentals with ocean views. It's also great for shell collecting. Here you can enjoy the five miles of pristine beaches. Hangout in the two pools at the North Captiva Island Club and indulge in their great food and tropical drinks that are available at the pool bar. You can tour the island's sandy roads on your beach buggy. Electric golf carts are the only form of transportation on the island. On the water, go fishing from the beach, docks, boats and guided fishing charters or rent jet skis for more of a thrill. On land there are many activities such as playing tennis, renting bikes or hiking the 350 acres of wildlife preserve! You can get here by ferry or water taxi for more information on where to board click here.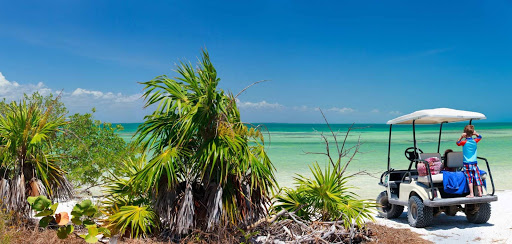 Cabbage Key
Cabbage Key is where you'll be able to find the best of old Florida.This secluded island getaway offers visitors a relaxing atmosphere totally void of commercialization. A stay here may involve nature, fishing, shelling on nearby deserted beaches, reading, writing, painting, boating, and — most of all — quiet and tranquility. This island is the home to the famous Cabbage Key Restaurant, which is well known for having all the walls covered in dollar bills as well as the "cheeseburger in paradise". Visitors will stick a dollar on the wall before they leave but what they might not know is that every year the environment causes many of these dollars to fall and when they do, they are donated to local charities. This year when the community was hit by COVID-19, 6,000 of the "Fallen dollars" were donated to the SWFL Emergency Relief Fund to support the local and Pine Island community. Community is key in Cabbage Key and you'll feel welcomed as soon as you step foot in the sand!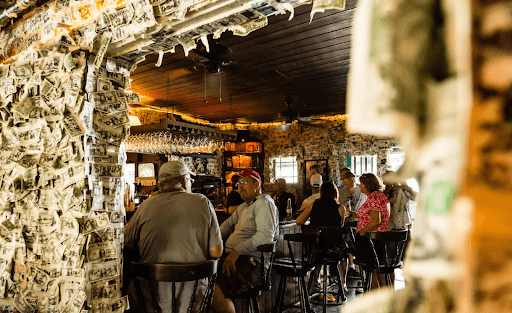 Gasparilla Island State Park
Located at the Southernmost tip of Boca Grande, Gasparilla Island State Park is made up of five beaches in which you can swim, snorkel or even wander off into nature! The park revolves around the Boca Grande Lighthouse- which is very instagram worthy! These beaches and Boca Grande in general are preferred romantic getaways, with lodging and dining close by. You can also visit the museum that is by the lighthouse, which is filled with rich history on Gasparilla Island, the Calusa Native Americans and world-famous tarpon fishing at Boca Grande Pass. This park offers picnic tables and freshwater showers for your convenience and it is open from 8AM to sundown. The cost is $3 per vehicle.
We hope to have given you some ideas to plan your next grand adventure! Make sure you don't miss the sunset!