O'Bannon Snook Fishing Tournament
Fishing in Southwest Florida last weekend was spectacular.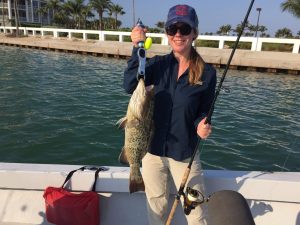 Dan and Shelley Baggot fished in the O'Bannon Snook Fishing Tournament, with over a hundred other anglers. While there didn't seem to be as many 40+ inch fish caught there seemed to be more anglers catching snook of all sizes than in previous years. Plus lots of boats reporting black grouper, snapper, redfish and trout taken while fishing for snook. To make things more interesting there were also reports of Cobia and Tarpoon hookups during the fishing tournament.
Lots of people attributed the strong bite to the first real warm temperatures of the late spring. The thermometer has finally reached the 90s for days at a time and with no rain the water has cleared up to the magical turquoise color that SW Floridians are used to.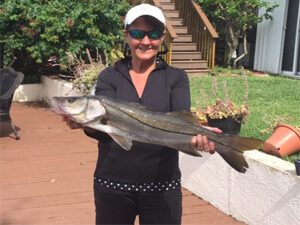 Cabbage Key is where the tournament was held and is located North of Captiva and North Captiva Islands. It is a historical site and former home of the famous author Mary Roberts Rinehart. The intercostal water way is just out the front door and there is ample dockage for all boat sizes. To maintain the charm and quaintness while still providing the amenities is quite an accomplishment.
The rooms at the Inn are comfortable and cabins are available for rent on the island if one desires more privacy or room.
To stay updated with all the events happening in SWFL, make sure to check out our Event page!