Airboats
Some of the original stewards of the everglades were Airboat men. These boats made to glide over the miles and miles of shallow flats have been showing the Everglades to outdoor enthusiasts for generations. Most of the Airboat businesses still operating are family owned business located in or near Everglades City.
The Airboat rides being offered are everything from group tours to custom charters. While wildlife can never be guaranteed the chance of seeing a Florida alligator or some of the many different birds that utilize the Everglades for habitat is fairly good.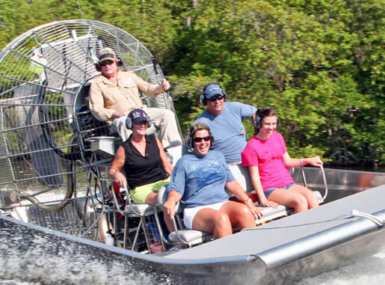 Featured Business
Captain Jack's Airboat Tours
Experience more of the Everglades with an exciting mangrove airboat tour, a breathtaking grassland airboat tour, and a scenic swamp buggy ride. Learn about the plants, animals, and history of the Everglades from our experienced guides.
Learn More
Visit Website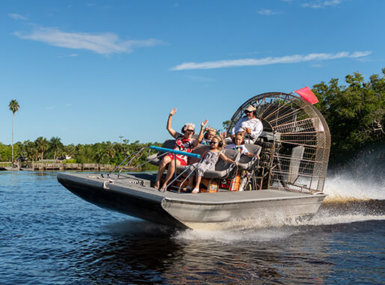 Featured Business
Jungle Erv's Airboats – Mangrove Tours
See a one hour tour on a small airboat through the wilderness of the one only everglades. See alligators, manatees and everything the everglades has to offer!
Learn More
Visit Website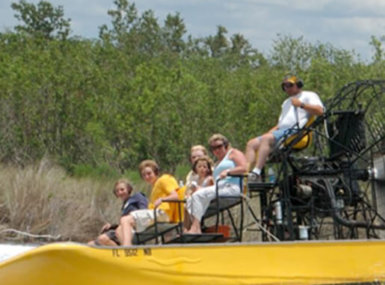 Featured Business
Speedy's Airboat Tours
A Everglades Airboat Adventure like no other! Featuring "True 6-Passenger Airboat Rides" You will be amazed by the wonders of the Everglades as you travel from the Mangrove Jungles onto the sawgrass prairies. Only on the true airboats can you experience both. Let us take you where no one else can!
Learn More
Visit Website
Airboats and Alligators
6001 Lake Traffors Rd. Immokalee, FL 34142
Big "O" Tours
920 E. Del Monte Ave. Clewiston, FL 33440
Capt. Mitch's Airboat Tours
30999 Tamiami Trl. East, Everglades, FL 34139
Captain Jack's Airboat Tours
905 Dupont St. Everglades City, FL 34139
Everglades Adventure Tours
796 San Carlos Dr. Fort Myers Beach, FL 33931
Everglades City Airboat Tours
907 Dupont St. Everglades City, FL 34139
Jungle Erv's Airboats – Mangrove Tours
804 Collier Ave. Everglades City, FL 34139
Jungle Erv's Airboats – Wilderness Tours
31222 Tamiami Trl E Naples, FL 34139
Peace River Charters
4192 SW Adventure Way, Arcadia, FL 34266
Speedy's Airboat Tours
621 Begonia St. Everglades City, FL 34139
Wootens Airboat Tours
32330 Tamiami Trl. East, Everglades City, FL 34141