SWFL Health: Juicing with Irene's Dream
Juicing has become a popular new health trend. In doing our research, we came across a local juicing business called Irene's Dream Juice Bar from Fort Myers, so we conducted an interview with Irene to better explain what she does and the benefits of juicing. 
Introduce yourself and tell us about Irene's Dream Juices.
Hello, my name is Irene, and I am the owner of Irene's Dream. We offer organic, cold-pressed juices, smoothies and elixirs to the local community. We are convenient, so we deliver to your home or office.
What made you become passionate about juicing and health?
My dad inspired me to look into juicing and eating a better diet. My dad was diagnosed with cancer back in 2015, and I did my research on juicing. I read so many studies on how patients beat cancer with juicing and a plant-based diet plan. Unfortunately, my dad passed away back in 2016, but his experience fueled me to help others in our community and around the world.
What are some of the health benefits of juicing?
Juicing is beneficial to your lifestyle. With just one juice a day, you are helping out your body. We live in such a toxic environment from our food, air and water. Juicing offers many life-enhancing health benefits, including a faster, more efficient way to absorb immune-boosting nutrients naturally found in fruits and vegetables. It provides a way to access digestive enzymes typically locked away in the fiber matrix of whole fruits and vegetables. Freshly juiced fruits and vegetables are loaded with an abundance of vitamins, minerals and phytonutrients.
Drinking fresh juice can help us adopt healthier eating patterns. It gives you more energy, a brighter mind and makes you feel simply amazing.
How long do your juices last and where do you source your fruits and veggies from?
At Irene's Dream, we use a slow juicer, and our juices can last up to three days. We teamed up with a local farmer from Alva, Florida, where we get all of our produce. She uses no GMOs or pesticides and is mainly organic.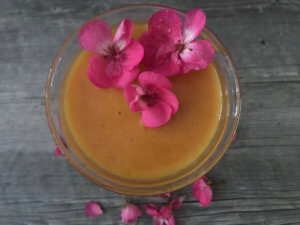 Would you say there are an optimal number of ingredients to make up the perfect juice?
It takes a lot of practice to make the perfect juice. It took me about three months to come up with my recipes by playing around with the ingredients. I first looked up the benefits of each vegetable and fruit, and from there I combined them. It can go very wrong if you add too much or too little fruits or veggies. My goal was to combine 80 percent vegetables and 20 percent fruits but keep the taste great, and it sure does!
What is your most popular flavor? What is your personal favorite?
Good questions! My most popular juice is "Faith" (carrots, beet, orange and lemon), while our most popular smoothie is "Be Kind" (strawberry, pineapple, mango, banana and coconut water). My personal favorites are "Man Up" (a juice with kale, cucumber, celery, cilantro, apple, lemon and spinach) and "Patience" (flax milk, maca powder, chai powder, cinnamon, oatmeal and dates).
How often do you recommend a juice cleanse?
At Irene's Dream, we offer a 1-3 day juice cleanse — more days are available, too. It's a great way to reset your body and give your digestive system a break. Therefore, we recommend doing a juice cleanse once a month.
How can people order your product?
You can follow our Facebook page Irene's Dream and message us there, or email/text us at [email protected] or 239-994-0445.
Do you partake in any events around SWFL, Farmers' Markets, etc.?
Yes, we are at Millennial's Vegan Food Truck Rally once a month and working on our storefront at the moment: Our main focus is delivery service.