This past week we did a giveaway of a $40 gift certificate to Sun Harvest Citrus!
If you have not been yet, this is the place to go when visiting southwest Florida, specifically Fort Myers. Sun Harvest offers a variety of fresh squeezed orange and grapefruit juices! They also sell fresh produce, baked goods and delicious ice cream!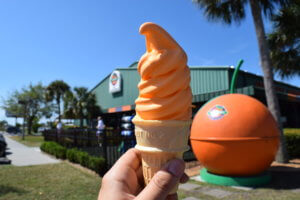 Sun Harvest began as a family tradition started in 1940 by Robert Edsall, Sr. Vero Beach is where Mr.Edsall planted his first citrus grove, He knew the soil and weather conditions would be perfect to grow the most delicious citrus. The legacy was handed down through generations. In 1990, Robert Edsall's granddaughter Sandy Mckenzie decided to bring her grandfather's great-tasting citrus to the public. She opened a store and packing house in Fort Myers, FL. This store which is still running today offers a variety of fresh citrus produce, juices, gourmet foods, candies, gifts!
The winner of our social media contest this month, featuring Sun Harvest is Instagram: @Kalipila! 
Follow us on Instagram: @floridatravelguided, Facebook and Twitter to stay updated and maybe win some prizes in the future!