Featured Business: Sunset Boat Tours!
June 1, 2018
•
Activities
This week we are featuring Sunset Boat Tours!
Sunset Boat Tours is a boat tour service run by Captain Dan. He is docked under the Sky Bridge on Fort Myers Beach across from the Marina Village Resort Condominiums. Sunset Boat Tours provides year-round water tours including dolphin and sightseeing cruises, sunset cruises, holiday/specialty cruises and private charters for your special events! 
If you take a dolphin or eco/sightseeing cruise, you can expect a relaxing hour and a half sail through the Matanzas Pass. There you might experience seeing Florida's wildlife such as dolphins, manatees, seabirds, turtles and other marine life in their natural habitat. The dolphins will sometimes even play in the boat's wake, so be on the lookout! You can also expect music throughout the cruise, as well as narration of the surrounding area.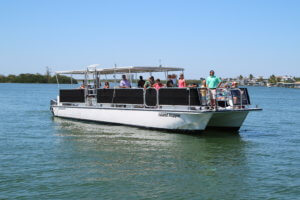 The Sunset Cruise is ninety minutes of relaxation on a spacious catamaran. There's nothing more spectacular than a Southwest Florida sunset! Experience what everyone who visits SWFL talks about by ending your day watching the sun's reflection on the water as it sinks below the horizon. If you're lucky, you might even catch a glimpse of the "Green Flash!"
Sunset Boat Tour's new boat is the "Island Hopper," a pontoon boat that can fit groups of up to 10 people for a fun day on the water!
Sunset Boat Tours and Captain Dan are highly rated on their Facebook page and received five stars from Facebook user Denise Prime Finn, who states:
"Another amazing day on the Fort Myers Princess. Dolphins were playful, crew is awesome and fun was had by all. Thanks to the crew for another great trip."
So if you're looking to take a cruise on Fort Myers Beach, see dolphins and experience the sunset, pay a visit to Captain Dan at Sunset Boat Cruises and he will make it happen for you!
Visit our Coupons page for a discount on a Sunset Tour!
Sunset Boat Tours is located at 645 Old San Carlos Blvd, Fort Myers Beach, Florida 33931. For more information or booking, visit www.fortmyersprincess.net.