Chocolate Craze: Local Chocolatiers
There's nothing more delicious than chocolate! July 7 is World Chocolate Day, so we decided to spotlight some of the best chocolatiers in Southwest Florida to help you celebrate the right way!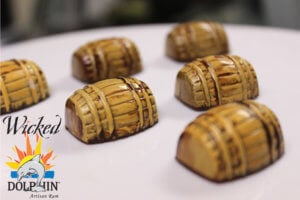 Noela Chocolates & Confections, located off SE 47th Street in Cape Coral, offers hand-crafted chocolates that you can buy in 4, 9, 16, 21 and 48 pieces. They are beautifully designed and make perfect gifts. Their most popular flavors are Florida Key Lime, Mango and Dark Strawberry. The Florida Key Lime Pie is described as a "slice of pie inside a truffle." Noela Chocolates also creates custom chocolate designs for weddings and corporate events. They have made chocolates for local businesses such as Nevermind Eatery, Wicked Dolphin Rum and Thistle Lodge Beachfront Restaurant.
Another Cape Coral chocolatier is Zotter Chocolate. They make their chocolates in Austria and have showrooms in Cape Coral and Shanghai. They specialize in layered chocolate bars instead of the more common truffles. Their chocolate beans are organic and sourced from ethical growers worldwide. Zotter's most popular chocolates are the Butter Caramel and Bitter Classic. 
Located in Downtown Fort Myers is Adirondack Chocolatier. Adirondack has been hand crafting chocolates since 2014! They offer bags of chocolates, chocolate lollipops and other delicious snacks covered in chocolate. They are known for their full-bodied simple chocolates which are very fairly priced!

Even if you're not a chocolate lover, you have heard of the name Norman Love. A renowned name in chocolate, Norman Love has been named the "best premium chocolate company in the U.S. six times since 2006." Their chocolates are truly a work of art and taste good, too! Their signature items are the gift baskets and towers, the signature boxes and the cookie mixes. His caramel chocolate is a popular one, but make sure to stop by to try their daily flavors!
Celebrate this delicious holiday and try out some local chocolatiers!