3 Days the Nature Way on Fort Myers Beach
DAY ONE:
To dip into the local environmental scene and enjoy the nature of Estero Bay Aquatic Preserve, spend a day following waypoints along the Great Calusa Blueway paddling trail. You will earn a whole new perspective and appreciation of this water-riddled destination. If you're lucky, you will get a dolphin escort through Estero Bay.
A number of outfitters offer canoe and kayak rentals for your nature adventure. The Blueway trail map plots marina restaurants, where you can take a break and indulge in dockside lunch with a view of masts and hulls.
In the afternoon, feel indigenous and in harmony with the original inhabitants of the area–the Calusa tribe that once plied local waters in dugout canoes and gave their name to our paddling trail. Walk the trails, visit the historic home, and enjoy the gardens and sights at Mound House, one of the Calusa Blueway's launch spots on Estero Bay.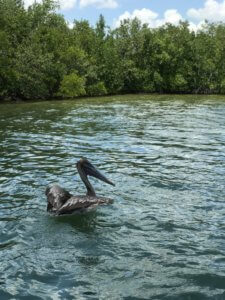 DAY TWO:
Wake early for a beach walk at Newton Beach Park. Join a guided nature walk on Tuesday mornings or a yoga session on Wednesday mornings. Then head to Matanzas Pass Preserve. Two loop trails—the Calusa and the Mangrove—take visitors on a twisty tour of the 56-acre preserve. In various parts muddy, shelly, and boardwalk, the trails lead through mangroves, shady oak trees, cabbage palms, and gumbo limbo trees before reaching a secluded overlook at Estero Bay.
Afterward, pack up a picnic lunch for Lovers Key State Park off the south end of Estero Island. It holds one of the area's most remote, most natural beaches, but there's more to do here than just lie in the sun: bike, hike, bird-watch, kayak, do a paddleboard tour, or go shelling on the beach. Bring along or buy some fishing gear, and try your luck. Ranger-led programs teach you about fishing, as well as birding and kayaking.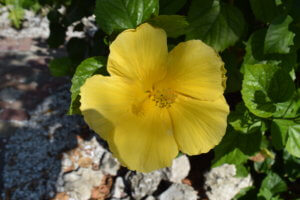 DAY THREE:
Head to Bowditch Point Park at the northern tip of Estero Island for a morning hike along the water's edge both bay-front and Gulf-front. In the summer look for (but do not disturb) marked loggerhead sea turtle nests in the sand. A nature trail crosses the point of land for more exercise and to explore local flora.
Buy snacks at the concession stand, or bring a picnic for lunching as you watch boats floating in and out of the pass. Keep a lookout for manatees and dolphins as well. For your after-lunch snooze, spread out on the soft white sand under the subtropical sun. Come nightfall, head to the beach for a stargazing stroll.
Get out there and enjoy all the wonderful flora and fauna that the Fort Myers Beach area has to offer!